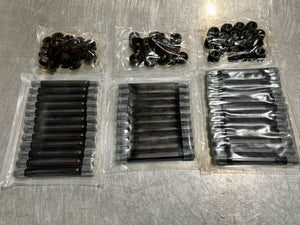 GM 6.2/6.5 IDI High Tensile Head Stud Kit
---
There are 5 units left in stock.
---
The highest rated tensile strength 6.2/6.5 head stud kit on the market, this kit is rated for beyond 220,000 psi tensile strength, far greater than ARP's head stud kit which utilizes 8740 grade material rated only up to 180,000-210,000 psi, meaning these studs can handle more torque, more cylinder pressure and more power before yielding. 

Every kit comes with detailed instructions, assembly lube and a free t shirt & sticker with every order! 

Fits 1982-2000 6.2 and 6.5 IDIs
Reading Ref. ARP Material Guide: https://arp-bolts.mobi/p/tech.php?page=5
---
We Also Recommend
---