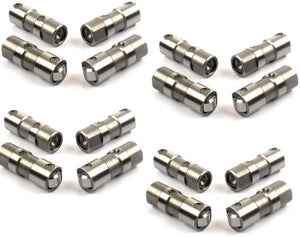 Johnson-Hylift 6.9/7.3 IDI Performance Lifter Set
---
There are 3 units left in stock.
---
Hylift-Johnson lifters are made in the United States from superior forgings with an enclosed needle bearing and a "C" clip retainer. With a reduced clearance between the lifter body and the precision ground internal piston, a slow leak down is allowed with very little loss of valve lift or duration at any RPM. These lifters will leak down between 90 to 120 seconds, whereas OEM lifters leak down between 10 to 120 seconds. This smaller leak down range helps create balance between all cylinders. Additionally, the tighter internal clearances cause the lifter to act as a heavy duty shock absorber holding up to higher spring pressure and higher lift camshafts.
HyLift Johnson is a division of Top Line Automotive based in Muskegon, MI USA. They are known in the industry as the manufacturer of the highest quality lifters for the widest range of OEM and aftermarket applications. They do all of the design, Engineering, Manufacturing, Assembly and Testing in-house. These lifters are very hard to produce because the TOTAL clearance between the I.D. of the Body and the Piston assembly is reduced to less than 0.000120", or 1/30 of a human hair.  In testing, not only did these lifters result in more power and higher RPM reading over other Hydraulic lifters they also reduced valve train wear and failure compared to mechanical lifters.
---
We Also Recommend
---